Next step on the path towards an efficient biofuel cell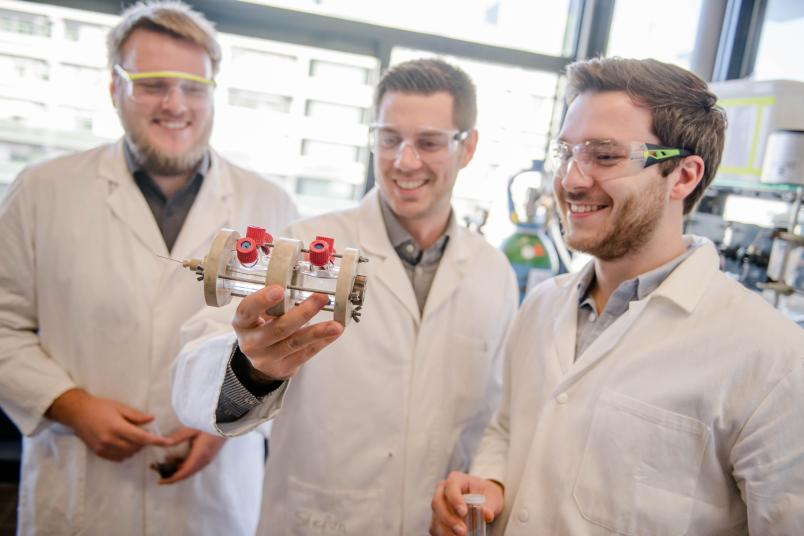 The catalyst in question has been deployed in hydrogen production. Still, with a few tricks, it can be adapted for other functions.
A catalyst for carbon dioxide recycling, Mineral pentlandite may also be a conceivable alternative to expensive precious metal catalysts. This is the result of a study conducted by researchers from Ruhr-Universität Bochum (RUB), Fritz-Haber Institute Berlin and Fraunhofer Umsicht in Oberhausen. Pentlandite had previously been known as a catalyst for hydrogen production. By adding a suitable solvent, the researchers successfully utilised it to convert carbon dioxide into carbon monoxide. The latter is a common source material in the chemical industry.
___________________________________________________________

The DFG selected our joint proposal by RUB and TU Dortmund University. The Cluster will tackle new research topics in solvation science.

Read more
___________________________________________________________
---

Here you can find infos about our

Bachelor
Course language German
Bachelor of Science in Chemistry
Bachelor of Science in Biochemistry
Bachelor of Arts in Chemistry + x

Master
Course language English
Master of Science in Chemistry
Master of Science in Biochemistry
Master of Science in Molecular Sciences and Simulation

Course language German
Master of Education in Chemistry + x